Project description
The Brookhill Secondary Plan Update is an opportunity to advance the forward-thinking planning approach established for this area ten years ago. The Update will guide future development of the neighbourhood by enhancing street and building design, and incorporating sustainable practices and pedestrian connections to green space.
Statutory Public Meeting - September 28, 2020
We encourage you to submit your written comments for Committee's consideration to Greg Bunker or Carlos Salazar at Brookhill@clarington.net or by mail or drop box to 40 Temperance Street, Bowmanville, ON L1C 3A6 no later than Monday, October 19, 2020.
Brookhill Secondary Plan – DRAFT
These documents are being finalized and made accessible. The accessible version will be posted shortly. In the meantime, if you require an accessible version, please let us know, and we will make one available.

Background Reports – DRAFT
An accessible version of these documents is available upon request. These reports remain in draft form and may require further revisions.

Master Servicing and Stormwater Management Report (available upon request)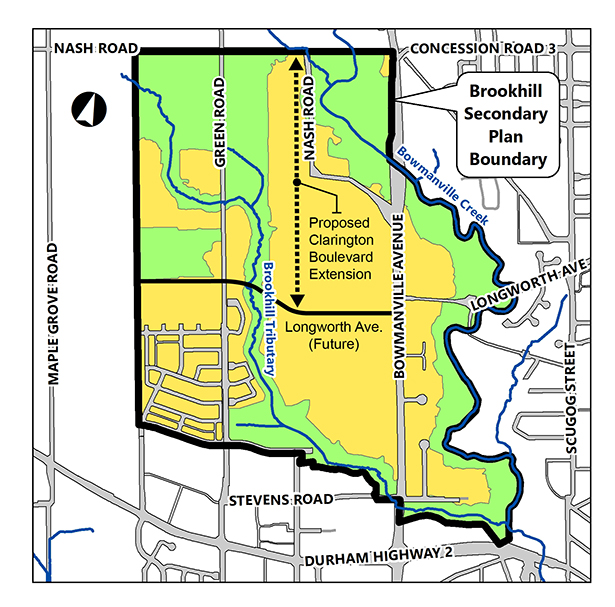 Online Public Information Centre #3 – May 21, 2020
Public Information Centre #2 – June 25, 2019
Public Information Centre #1 – November 26, 2018
Notice of Study Commencement – November 26, 2018
This Secondary Plan Update will include an Environmental Assessment (EA) for new major infrastructure that are subject to Schedule β€˜C' of the Municipal Class EA process. This will proceed using the integrated approach with the Planning Act that is an approved process under the Environmental Assessment Act.
Related Studies
Background documents
Comments, questions and updates
Comments are encouraged now and over the course of the study. If you have comments, require further information or would like to be added to the project mailing list, please email Brookhill Secondary Plan Update.