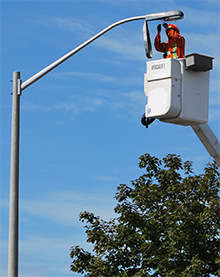 Report a Problem / Service Request
Is your streetlight out? Do you have a dead or dying tree on your boulevard? Are you experiencing issues with an aggressive dog at a leash-free dog park, or reporting damage to a park or splash pad? Do you have issues with stray animals, a noise complaint or concerns with your neighbour's parking or property?
Let us know, and we will investigate and resolve any issues.
Examples of issues you can report
Animals (barking, stray dog/cat, dog attack, issues at a leash-free dog park, stoop and scoop)
Culvert blockage
Municipal roads, bridges, sidewalks in need of repair
Park maintenance (grass cutting, garbage collection)
Park safety (broken equipment, broken glass)
Streetlight bulb (burnt out, flickering)
Traffic signs (removed, destroyed, illegible)
Winter maintenance (plowing, salting, mailbox damage)
Zoning
Customer Service Complaints
The Municipality of Clarington strives to deliver quality services. We have highly trained staff who are here to assist you, answer your questions, and help resolve issues. We value your feedback and want to know what you think about our services, programs, facilities and staff. If you feel our staff were rude, unhelpful and dismissive, please let us know.
Submitting a complaint
In order to submit a formal complaint to the Municipality of Clarington, you will be asked to provide detailed information on:
What happened?
Who was involved?
Where did the incident take place?
What was said or done?
What are you looking for? What resolution would you like?
Your contact information
This information will be forwarded to the appropriate Supervisor/Manager for response and investigation. Each Municipal Department has a procedure when dealing with complaints.
According to the Municipal Freedom of Information and Protection of Privacy Act all complaints will be dealt with in a confidential manner. When handling your complaint only a Municipal Supervisor or Manager would handle your personal information during the investigation. Your personal information will not be shared with anyone else unless you provide written consent for your information to be shared, or where the Municipality is compelled by law to share your information.
Fill out the complaint form below to file a formal complaint. It will be forwarded to the appropriate Supervisor or Manager for response and action.
Customer Service Compliments
Did you receive exceptional customer service from our staff? Want to praise a program or a service we offer? We'd love to hear about it.