Clarington completes parking lot improvements at Garnet B. Rickard Recreation Complex and Fire Station 1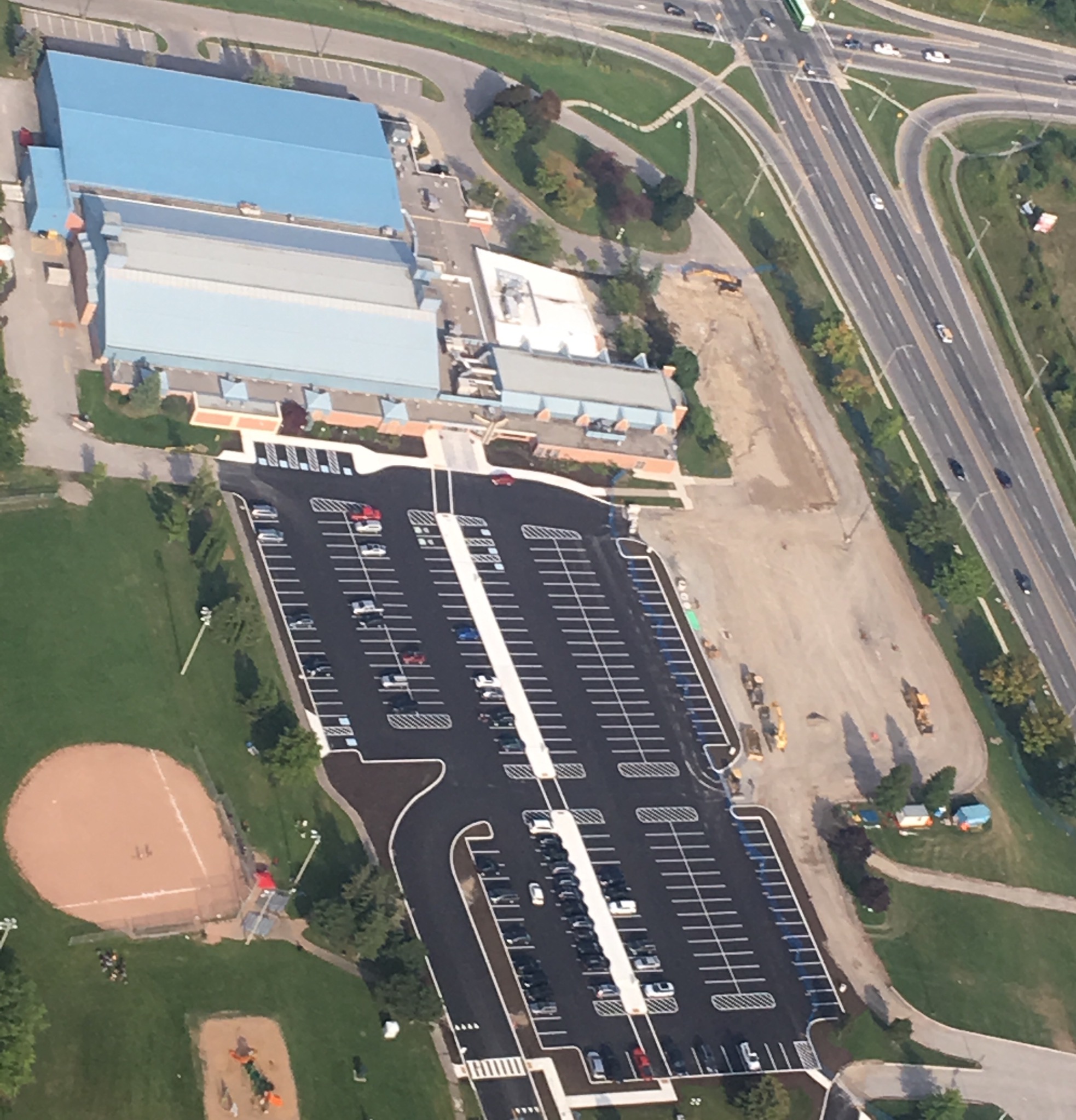 Clarington December 17, 2018/- The Municipality of Clarington has completed a series of improvements to the parking lot at Garnet B. Rickard Recreation Complex and Fire Station 1. The changes made to the parking lot focus on accessibility, pedestrian safety and some eco-friendly features. While the parking lot has been open for public use for some time now, some of the improvements took a little longer to complete.
Safety was a key focus for the improvements. Raised islands have been installed throughout the parking lot to guide traffic, reduce vehicle speeds and provide additional protection for pedestrians navigating the parking lot. Crosswalk lines have been painted to connect walkways and ensure pedestrians can cross the parking lot in a visible, safe area. Raised sidewalks have been installed in key areas to separate pedestrians from moving vehicles. The raised sidewalks provide pedestrian access from Uptown Avenue to Pad A, and from the intersection at Regional Road 57 and King Street West to Pad B. New LED lighting has been installed throughout the parking lot to provide more visibility and reduce electricity and maintenance costs.
Significant efforts have been made to improve accessibility in the parking lot. Tactile Walking Surface Indicators (TWSI) have been installed at all crossings to provide guidance for people who are visually impaired to a safe and accessible crossing. New accessible parking spots have also been added next to the baseball diamonds. The Municipality has also lowered the curbs to create a smooth transition from the parking spot to the sidewalk.
Clarington has also incorporated some green initiatives into the parking lot improvement to help protect the environment. The Municipality installed a Bioretention Cell, also known as a rain garden in the parking lot. This rain garden is designed to treat stormwater runoff from the parking lot, removing sediment and pollutants, before it enters a nearby stream or storm system. The water runoff is soaked up by plants, evaporated and infiltrated into the ground. This eliminates pollutants such as oil, sediment, salt, fertilizer and litter from entering our waterways and harming the ecosystem. Clarington has also installed two electric vehicle charging stations on the Pad A side of the parking lot. The Municipality supports a variety of initiatives that are environmentally friendly and encourage residents to reduce their greenhouse gas emissions. New trees have also been planted throughout the parking lots.
"We've made significant improvements to the parking lot that enhance safety for all our residents, promote inclusion for people of all abilities and protect the environment," said Anthony Cannella, Director of Engineering Services.
-30-
Media Contact:
Basia Radomski
Communications Manager
905-623-3379 ext. 2214