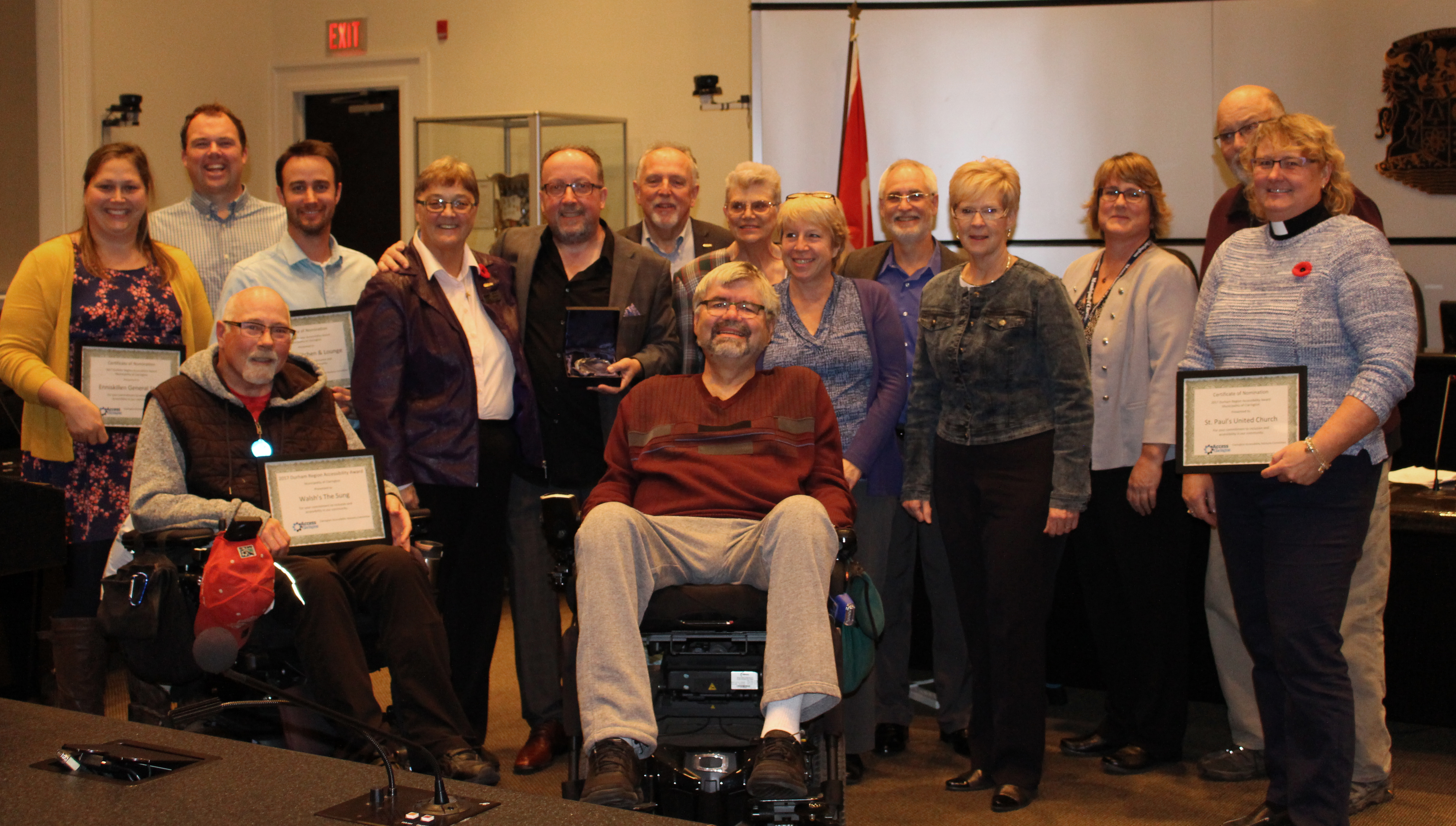 Clarington November 2, 2017/- Four local Clarington businesses are recognized for their contribution and commitment to inclusion and accessibility in the community. The recognition ceremony was held in Council Chambers on Wednesday night. Clarington Mayor Adrian Foster, members of Council and members of the Accessibility Advisory Committee (AAC) attended the event.
Congratulations to the Enniskillen General Store, St. Paul's United Church, Three-Six Kitchen & Lounge and Walsh's The Snug for making key improvements to accessibility and inclusion. The businesses were selected for excellence in one of four categories:
Customer service - respecting people with disabilities so they can access goods and services with dignity;
Information and communications - designing websites and printed materials so that information is accessible;
Built Environment - designing barrier-free spaces that include accessible features;
Employment - creating workplaces with accessible policies, practices and features to allow employees to reach their full potential.
The Enniskillen General Store created an accessible entranceway that includes a ramp and power door opener. St. Paul's United Church upgraded its elevator to accommodate large motorized wheelchairs. Three-Six Kitchen & Lounge provides its patrons with inclusive customer service so they can enjoy their dining experience. Walsh's The Snug was recognized for adding a barrier-free washroom to their restaurant.
Each year the Accessibility Advisory Committee selects organizations that demonstrate accessibility leadership in the community. One of these organizations is then chosen to represent Clarington at the Durham Region Accessibility Awards.
This year, Walsh's The Snug was selected as Clarington's nominee at the Regional ceremony held in September.
"These local businesses strive to create an all-inclusive, accessible environment where people of all abilities can access services. By celebrating Clarington's leaders in accessibility, we raise awareness and help break down barriers," said Clarington Mayor Adrian Foster. "It is our hope that more organizations will follow the example set here tonight, and continue to make our community barrier-free."
-30-
Media Contact:
Basia Radomski
Communications Manager
905-623-3379 ext. 2214