Clarington Council clears costly obstacle to help the expansion of Parkview Lodge
Clarington Council cleared a costly hurdle that will allow Parkview Lodge in Newcastle to continue its expansion and relocate the pedestrian crosswalk from its current location blocking the proposed driveway to the new building. Council also decided to enter into an agreement with Parkview Lodge allowing the facility to pay the local development charges on the expansion in 21 equal instalments over 20 years with no interest. The interest saved will fund the relocation of the crosswalk approximately 35 metres to the west from its current location. With the relocation of the pedestrian signal, the Municipality is proposing a different design for the crossing. The new design will see a pedestrian crossover built with streetscapes enhancements such as bump-outs to improve pedestrian visibility and safety. The new pedestrian crossover will also include traffic calming measures and a shortened distance for pedestrians to cross. Council has committed $50,000 to fund the new design. Parkview Lodge is located at 153 King Avenue East. Clarington has granted Parkview Lodge site plan approval to build a three-storey, 37-unit addition to its existing two-storey seniors' residential building.
For more information, read report CAO-004-20.
---
Clarington is making changes to its forestry services
Following an extensive service delivery review, the Municipality of Clarington will be making some changes to its forestry services to make improvements and enhancements. The service delivery review found 14 areas of improvement with corresponding action items. Based on these Clarington will be looking to make some process improvements to enhance our ability to respond to forestry service requests and improve customer satisfaction. Staff will look at the business processes and standard operating procedures for each forestry service from the point of customer contact when a work order is logged to its resolution. The Municipality will use its current Lean Six Sigma program to identify improvements to our processes. Clarington will also look at software to support and track all work done in the field to improve the overall process and reduce administrative inefficiencies. Currently, the Municipality uses a combined service delivery model of both in-house and contracted services. This will continue in the future, but Clarington will develop a robust list of performance standards for contracted services including work order responses rates and quality of work.
For more information, read report CAO-003-20.
---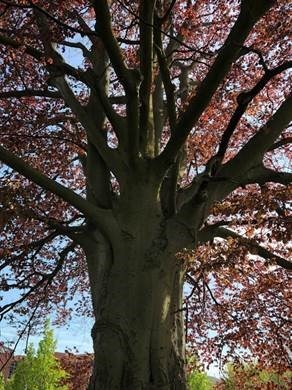 Clarington designates its first tree, marking the historical significance
Clarington started the process to designate a 200-year-old tree under the Ontario Heritage Act. Known as the Fletcher Tree and located on 2 Church Street, the copper beech tree is one of two trees planted by Squire Alexander Fletcher in front of his home. The story is that Squire Fletcher planted "his and hers" trees to signify love and commitment. Squire Fletcher was among the earliest and most influential settlers to live in Bowmanville, and clearly, he had a romantic streak. Squire Fletcher served as a local magistrate for many years and as an officer in the Durham militia. The Fletcher Tree is among the only remaining historical ties to Alexander Fletcher. The brick house he built was demolished in the 1970s and the second tree no longer exists.
For more information, read report PSD-004-20.
---
Three local Heritage properties receive recognition under the Ontario Heritage Act
To mark Heritage Week across Ontario (February 17 to February 23), Clarington has designated three properties under the Ontario Heritage Act. As outlined by the Province, the primary focus of this type of designation is to "protect heritage properties and archaeological sites (and) preserve the heritage of Ontario." These properties have architectural aspects that separate them from others and are great examples of historically significant buildings. The "Dundurn" house on 26 Concession Street West in Bowmanville is an excellent example of a country villa built in the classical 19th-century Regency Style. Dundurn was built in 1854 by Reverand Dr. Alexander MacNab who became the first Rector in charge of the Anglican Church in Darlington Township in 1854. He built the house for his family and most likely named it after his ancestral home in Scotland. Bowmanville's Central Public School located on 120 Wellington Street was also added to the heritage register. The school was built in the Richardson Romanesque style in 1889. The third property designated is Haydon Community Hall, located at 2503 Concession Road 8. Built as a schoolhouse in 1876, the building is a great example of the 19th-century single-room schools typically found in the Township of Darlington. It is also among the oldest rural schoolhouse remaining in Clarington. Council presented each property with a plaque that marks their official designation.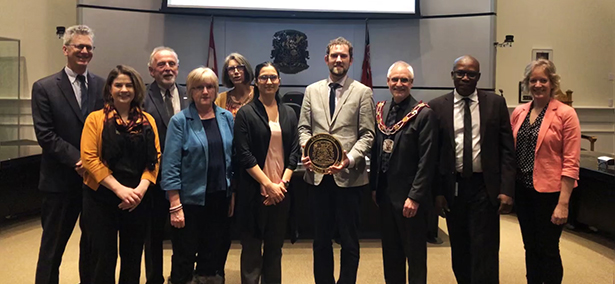 The next Council Meeting is March 2, 2020.