---
Farewell Creek Trail phase 2 moving forward with a new alignment
Council has approved the final alignment for phase 2 of the Farewell Creek Trail. After extensive debate and investigation of alternate route alignments, Council has chosen an in-valley option that will see a branch of the trail meander toward Townline Road along Farewell Creek, with a future potential connection to Oshawa's path on Grandview Street at the Townline Road boundary. Staff have been directed to investigate and provide a more accurate cost estimate. An early assessment of the work on the trail, including the bridge crossing, indicates the cost estimate at approximately $455,000. This chosen route is considerably less expensive compared to the original proposal and does not require slope stability and reinforcement, and minimizes any ecological damage. This alignment is also supported by area residents, as it provides them with privacy and security while allowing the community to enjoy a serene, wooded trail in the heart of Courtice.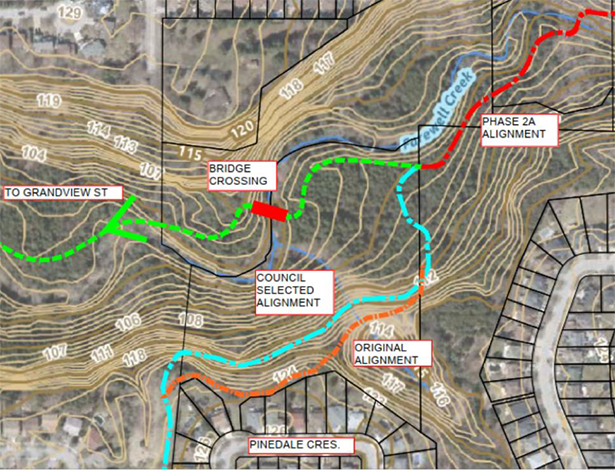 Map showing options for Farewell Creek Trail alignment. The approved alignment is shown in green.
For more information, read report PWD-017-21.
---
Four Bowmanville properties added to the Municipal Heritage Register
Clarington Council added four properties to the Municipal Heritage Register. The four properties are 172 Liberty Street North, 192 Liberty Street North, 77 Scugog Street, and 75 Wellington Street. These properties are considered to have cultural heritage value, and adding these properties to the Municipal Register supports Clarington's cultural heritage and history. Listing these properties on the Municipal Register also provides additional protection from demolition. Clarington has both designated and non-designated properties listed in its Municipal Register. Non-designated properties are considered to have cultural heritage value or interest and warrant further evaluation to determine appropriate conservation measures. Designated properties have additional protections and conservation measures in place that prevent them from being demolished without a proper evaluation. In total, Clarington has 112 properties in its Municipal Heritage Register.
For more information, read report PSD-019-21.
---
Bowmanville Boat launch restoration work to begin
Council has approved $200,000 for staff to restore the current Bowmanville boat launch and dock. The Bowmanville boat launch has fallen in disrepair and has been closed to the public since 2019. It provides easy access to Lake Ontario; it also allows residents and visitors to dock and access stores and other community services. Access to Lake Ontario has been a critical component of recreation, especially during COVID-19, when more people are seeking safe, enjoyable outdoor activities that allow for physical distancing.
For more details, read the Staff Memo to Council.
---
New site identified for temporary Bowmanville Hospital helipad
Clarington staff have been working with Lakeridge Health to identify a temporary helipad location to accommodate emergency air transportation until the permanent rooftop helipad is completed as part of the Bowmanville Hospital redevelopment. Clarington owns the preferred site for the temporary helipad, located at 1160 Haines Street, just south of the Bowmanville Cemetery. As required by Transport Canada, Lakeridge Health is currently seeking public input on the proposed location until April 5. Once all approvals are granted, the development will start in July 2021, with an estimated October completion date. Earlier this year, the Ministry of Health announced funding support for this project.
Read the Staff Memo for more details.