Clarington says it's an "unwilling host" for the Region's proposed anaerobic digestion and pre-sort facility
Clarington Council voted unanimously to become an unwilling host for the Region of Durham's proposed new anaerobic digestion and mixed-waste pre-sort facility in Courtice. In June 2019, Regional Council authorized a site selection process for this new proposed facility. On March 6, 2020, in a report, the Region identified the "preferred site" located in Clarington's Energy Park. The proposed site is in Courtice, just south of Highway 401 and right next to the Durham York Energy Centre (DYEC). The site was primarily chosen because of its proximity to DYEC and Highway 401. When analyzing potential sites for the facility, the Region of Durham only looked at areas where it owned the property.
Clarington Council asked Municipal staff to comment on the proposed location. In report PSD-013-20, Clarington staff outline that the proposed anaerobic digestion facility is not compatible with the land use plans set out for this area. Clarington's Energy Park is the location of the East Penn Canada Power Battery Sales Ltd. head office and warehouse, and the site for the proposed Ontario Power Generation new corporate campus relocation and expansion, plus it houses the existing OPG Durham Energy Centre (the refurbishment mock-up). The area is also the future site for the Courtice Waterfront Park, a long-term goal for the Municipality. The waterfront park is set to become a destination park that will support a variety of uses in the area.
The Region of Durham's Official Plan designated the site as an employment area. At the same time, Clarington's Official Plan describes it as a business park with a minimum target density of 30 jobs per hectare. The Province recently designated the site as a significant employment zone.
Clarington Council feels that the Municipality has been asked to "assume more than their share of the burden for the Region's waste" and does not want this new facility to negatively impact residents and businesses that have invested in this area.
While new to North America, the mixed waste pre-sort is a common waste management disposal process in Europe. Anaerobic digestion is well known in North America, and involves the use of bacteria to break down organic matter; in this instance, it will be household biodegradable waste. The bi-product of this process is biogas, mostly made up of methane, the main component of natural gas.
For more details, read report PSD-013-20.
---
Council authorizes temporary bike lanes on Prestonvale Road
Clarington Council has directed staff to open temporary bike lanes on Prestonvale Road from Robert Adams Drive to Glenabbey Drive. In addition, Council has authorized a bike-friendly zone from Glenabbey Drive to Southfield Avenue. These temporary measures will be in place until the end of August and will allow residents to enjoy cycling outdoors while practising physical distancing. Signs will be placed marking these routes.
To avoid the narrow section of Prestonvale Road that is not wide enough to support both inexperienced cyclists and cars, staff have recommended an alternate route so that residents can reach the designated bike lanes just south of Bloor Street. The recommended route will also have signage and will take residents through a series of side streets that are safe to ride on and can accommodate both cyclists and cars. The route map is outlined below.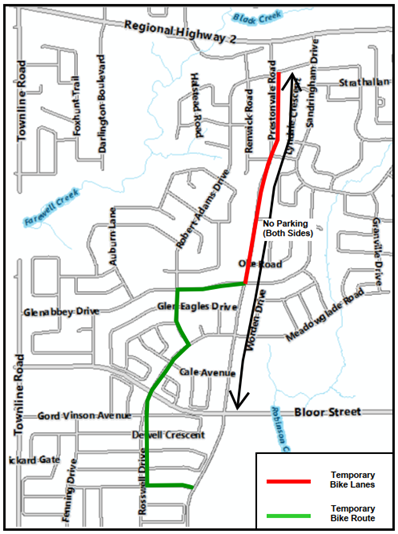 During this pandemic, many residents are taking up a variety of activities; if you are new to cycling in the Municipality, we have some tools and resources that will provide you with safety tips. All cyclists must know the rules, have the appropriate equipment, stay visible and be safe.
You can read more about cycling in Clarington on the Municipality's website.
Tools and resources:
---
COVID-19 impacts Clarington's cash flow
In a report outlining Clarington's financial situation, Clarington Council was told that the Municipality's cash flow would be $7.7 million short for 2020 fiscal year as a result of the COVID-19 pandemic. This means that some of the planned services and projects may be deferred. The bulk of the loss comes from cancelled spring programming, loss of user fees and loss of sports field rentals. While some of the loss has been offset by savings made in part-time wages and salaries, it is still unclear when the Municipality will be able to return to business as normal. The Province will make the ultimate decision to reopen. The other impact on cash flow is due to the delay in collecting taxes.
Under the Municipal Act, Clarington is required to have a balanced budget and is not allowed to use debt financing to cover any shortfall. However, the Municipality can use its reserves, if available, to help. It is important to note that we are still in the pandemic; a clear financial picture will be available once we understand the full impact of COVID-19.
For more information, read report FND-010-20.
---
The next council meeting is May 25, 2020.