Enbridge Gas Distribution Assists Clarington Emergency and Fire Services in Supporting Firefighter Training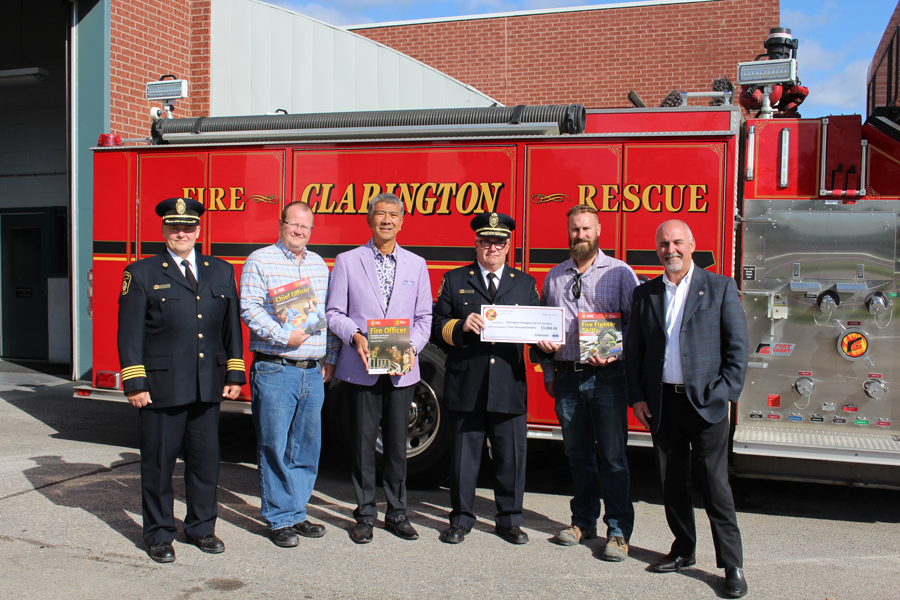 CLARINGTON, ON, September 28, 2017 – Enbridge Gas Distribution is partnering with the Fire Marshal's Public Fire Safety Council to help Clarington Emergency and Fire Services purchase firefighting training materials.
"Safety is a priority at Enbridge and we are proud to support Ontario firefighters who share in our commitment to help keep our communities safe," says Gerry Pumphrey, Enbridge Gas Distribution.
Project Assist is a program that supplements existing training for Ontario volunteer and composite fire departments in the communities where Enbridge operates.
This year's $100,000 donation will be shared by 20 Ontario fire departments, including Clarington Emergency and Fire Services. Funds will be used to purchase educational materials for firefighters to enhance life-saving techniques.
Since the launch of Project Assist in 2012, 86 Ontario fire departments have received additional firefighter training.
"Ongoing firefighter training enables fire departments to deliver emergency services efficiently and to ensure firefighter safety is maintained," says Ross Nichols, Ontario Fire Marshal & Chief of Emergency Management and Chair of the Fire Marshal's Public Fire Safety Council. "The support that Project Assist provides is very helpful to the fire departments who receive it, and the volunteer firefighters who benefit from these educational resources. I very much appreciate Enbridge partnering with the Fire Marshal's Public Fire Safety Council, making this program possible."
"We want to thank Enbridge Gas and the Fire Marshal's Public Safety Council for their generous donation and continued partnership," said Fire Chief Gord Weir. "The department benefits from this generous donation as our firefighters continue to train and hone their skills to provide the best possible services to our residents," added Chief Weir.
"Public safety is the utmost priority for Clarington. We want to thank our partners for their assistance and for prioritizing public safety in Clarington and across Ontario," said Clarington Mayor Adrian Foster.
About the Fire Marshal's Public Fire Safety Council
The Fire Marshal's Public Fire Safety Council (Council) is a registered charity established in 1993 with a mission to help create "a world where no one is hurt by fire." The Council, chaired by the Ontario Fire Marshal and supported by the Office of the Fire Marshal, promotes fire prevention and public education through sponsorships and partnerships with various groups and individuals with an interest in public safety. Follow the Council on Twitter @FMPFSC.
About Clarington Emergency and Fire Services
Clarington's Emergency and Fire Services provide high-quality emergency response, fire prevention and education services across the Municipality. We are a composite fire department, made up of both full-time and volunteer or part-time firefighters. We have five fire stations located in Bowmanville, Courtice, Enniskillen, Newcastle and Orono. Our headquarters are located at 2430 Highway 2 in Bowmanville.
About Enbridge Gas Distribution
Enbridge Gas Distribution Inc. has a more than 165-year history and is Canada's largest natural gas distribution company. It is owned by Enbridge Inc., a Canadian-based leader in energy transportation and distribution, and has ranked as one of the Global 100 Most Sustainable Corporations for the past eight years. Enbridge Gas Distribution distributes natural gas to over two million customers in Ontario.
For more information, visit www.enbridgegas.com or follow us on Twitter @EnbridgeGas.
- 30 -
For more information, please contact:
Kathy Ash, Fire Marshal's Public Fire Safety Council Tel: 1-866-379-6668 ext. 105
Email: kathy.ash@firesafetycouncil.com
Chief Gord Weir, Clarington Emergency and Fire Services Tel: 905-623-5126 ext. 2802
Email: gweir@clarington.net
Tanya Bruckmueller, Enbridge Gas Distribution Tel: 1-855-884-5112
Email: enbridgegasmedia@enbridgegas.com