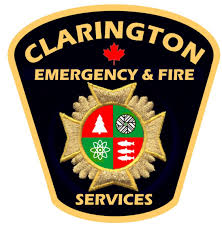 Clarington April 30, 2015/- Clarington Emergency & Fire Services had a busy day yesterday, battling two large fires. In the afternoon, crews responded to a small woodland fire in a secluded area called The Dell on the edge of the Ganaraska Forest. Later in the day crews were called out to a house fire in Leskard.
Fire crews arrived at the scene of the brush fire around 4 p.m. yesterday. It took 28 firefighters several hours to put the fire out. A man was burning some brush without a permit and he left the site unattended. Due to high winds the flames quickly spread. "Burning in Clarington is strictly prohibited without a permit. And if you have a permit, you should never leave your fire unattended," said Deputy Fire Chief Mark Berney. "We are taking a firm stance and we won't hesitate to charge people who violate our regulations," added Berney.
Several hours later, at around 7 p.m. crews were called out to a house fire in Leskard. It took 31 firefighters around 20 minutes to gain control of the fire. Crews were on scene for a few hours, cleaning up and dousing hot spots. "We believe the fire started in the kitchen, but we cannot pinpoint the exact location. The fire is under investigation," said Berney.
-30-
For media inquiries please contact:
Basia Radomski, Communications Manager
905-623-3379 ext. 2214