New Orono Park permeable walkway is a great example of low impact, environmentally friendly development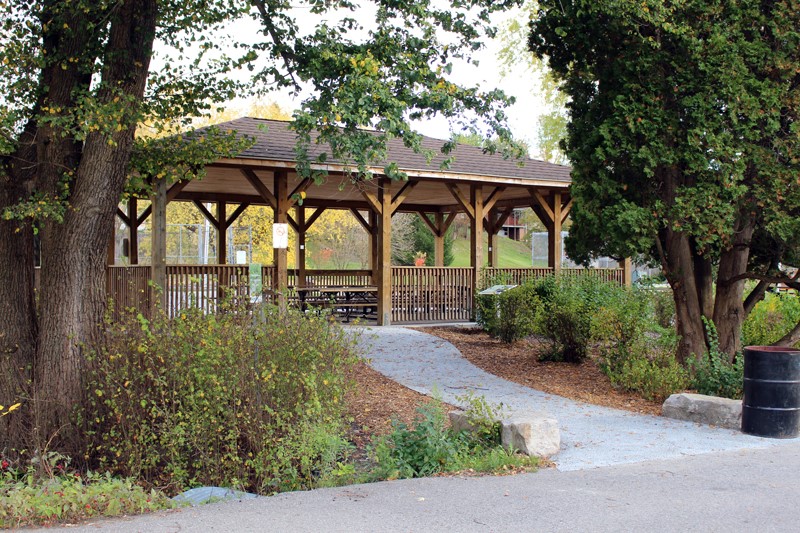 Clarington October 30, 2017/- A newly-installed permeable walkway in Orono Park, also known as Buttercup Hollow, showcases a progressive approach to minimize the impact of development on the environment, allowing for groundwater recharge. The walkway was built in partnership with the Ganaraska Region Conservation Authority (GRCA), the Municipality of Clarington, Lafarge Canada, Van de Bor Paving and Enbridge Inc. The walkway was installed using permeable concrete around the Orono Park picnic shelter.
Pervious concrete is a special type of concrete that is porous and can be used for hard surfaces such as walkways. Because it is porous, it allows water from rain and snow melt to pass directly through the concrete and absorb into the ground, reducing surface runoff and allowing for groundwater recharge. This new pervious concrete walkway also reduces surface runoff rates and volumes, lowers water contamination through natural filtration, and reduces flash flooding through increased drainage capacity. Even with the use of pervious concrete or other similar permeable products, it is important to reduce potential contaminants that exist on our roads, parking lots and driveways, and increase the amount of natural vegetation within urban areas.
Pervious concrete is a great example of the construction approaches that can be used to encourage stormwater drainage into soils, avoiding surface runoff. Stormwater runoff occurs when rain or snowmelt flows off hard surfaces, rather than being absorbed by vegetation and soils. In urban areas, these hard surfaces include roads, parking lots, driveways, sidewalks and roofs. In order to prevent street flooding, stormwater drains quickly removing any excess water from hard surfaces. The water then travels through underground pipes, eventually entering stormwater ponds, local creeks or Lake Ontario untreated.
The installation of a permeable concrete walkway is a great addition to the community-built picnic shelter at Orono Park. It is a learning tool for those interested in installing and designing permeable surfaces and provides easier access to the picnic shelter.
'ÄúThis is a great example of collaboration between different agencies to build innovative structures that have minimal impact on the environment,'ÄĚ said Clarington Mayor Adrian Foster.
To learn more about low impact design systems such as pervious concrete surfaces, please contact the GRCA at stewardship@grca.on.ca. Funding may be available through the Clean Water Healthy Lands Program to install systems (pervious surfaces, rain gardens, soakaway pits) to help manage stormwater on an urban property.
-30-
Media Contact:
Amy Griffiths
Marketing and Communications Officer
Ganaraska Region Conservation Authority
905-885-8173 ext. 235
Basia Radomski
Communications Manager
Municipality of Clarington
905-623-3379 ext. 2214