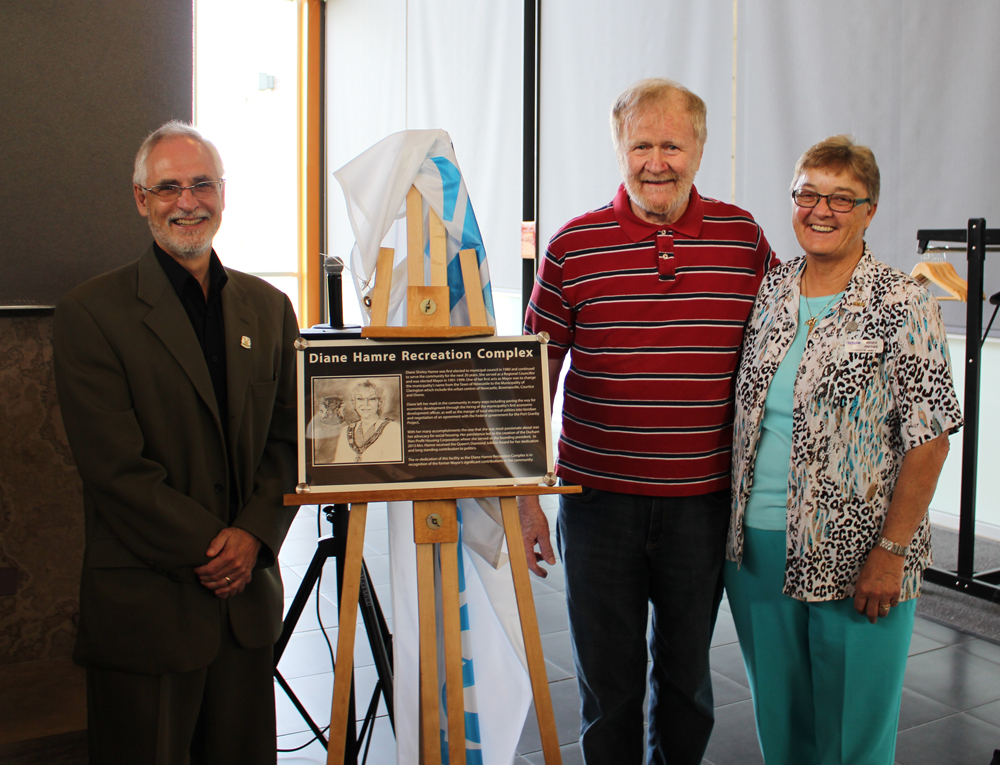 Clarington September 27, 2017/- Clarington's Newcastle & District Recreation Complex has been renamed after the late, former Mayor Diane Hamre. Clarington Mayor Adrian Foster and members of Council renamed the facility, the Diane Hamre Recreation Complex, during an official ceremony Wednesday morning. Former Mayor Hamre's family attended the event.
Diane Hamre died in April 2017. She served in municipal politics for 20 years. Diane Hamre was first elected to office as a local Councillor in 1980. In 1991, she was elected Mayor and served for nine years in this capacity. One of her first acts as Mayor, was to change the Municipality's name from the Town of Newcastle to its current name the Municipality of Clarington.
During her time in office, Mayor Hamre was influential in the construction of some of Clarington's largest and best-known facilities such as Garnet B. Rickard Recreation Complex and Courtice Community Complex, which houses the Clarington Public Library, Courtice branch.
Mayor Hamre was also instrumental in establishing a formalized process for economic development by hiring Clarington's first economic development officer. She was also a driving force behind the merger of the local utilities that formed Veridian.
"She loved her community and worked tirelessly to make Clarington a better place," said Mayor Foster.
Diane Hamre was passionate about social housing. She believed that everyone deserved an affordable place to call home. Her advocacy lead to the creation of the Durham Region Non-Profit Housing Corporation. She served as President of the Corporation. In 2013, Mayor Hamre received the Queen's Diamond Jubilee Award for her dedication and long-standing contribution to politics.
"This is a fitting tribute and a way to memorialize a figure who was crucial in helping shape our Municipality," said Mayor Foster.
-30-
Media Contact:
Basia Radomski
Communications Manager
905-623-3379 ext. 2214