The Municipality is seeking public comments before making a decision on an application for a proposed Plan of Subdivision and an application for a Zoning By-law Amendment.
Proposal
DG Group has submitted an application for Draft Plan of Subdivision and rezoning to permit a plan of subdivision with a total of 194 residential units consisting of 53 single-detached units, 36 townhouse units and two blocks with a total of 105 units, including stacked townhouses and mid-rise apartment buildings as well as blocks for Environmentally Protected lands. The applications are deemed complete.
Property
2400 Green Road, west side of Green Road, north of Ross Wright Avenue in Bowmanville.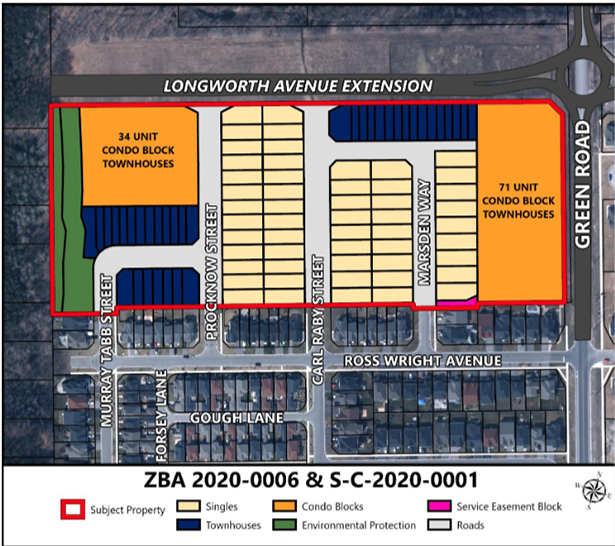 How to be Informed
For additional information on the proposed Draft Plan of Subdivision, zoning by-law amendment, and the background studies, visit www.clarington.net/developmentproposals.
Questions?
Please contact Cynthia Strike at 905-623-3379 ext. 2410 or cstrike@clarington.net.
How to Provide Comments
Our procedures have changed as we continue to adapt to the COVID-19 pandemic. As mandated by Public Health, to maintain physical distancing, these meetings will take place electronically. This meeting is livestreamed for public viewing at www.clarington.net/calendar.
Date: Monday, October 5, 2020
Time: 7 p.m.
Place: Electronic Teams meeting by way of online device or telephone
If you wish to speak at the public meeting, please pre-register, and you will be provided with further instructions.
You can pre-register by completing the online form at www.clarington.net/delegations or contact the Clerk's Department at 905-623-3379 ext. 2109 or clerks@clarington.net by Friday, October 2, 2020, at 3:30 p.m.
If you are unable to participate electronically, please contact the Clerk's Department, and we will do our best to accommodate you.
We encourage you to submit your written comments Committee consideration to Cynthia Strike at cstrike@clarington.net or by mail or drop box to 40 Temperance Street, Bowmanville, ON L1C 3A6 before the date of the public meeting.
File Number: S-C 2020-0001, ZBA 2020-0006
Freedom of Information and Protection of Privacy Act
The personal information you submit will become part of the public record and may be released to the public. Questions about the information we collect can be directed to the Clerk's Department at 905-623-3379 ext. 2102.
Accessibility
If you have accessibility needs and require alternate formats of this document or other accommodations, please contact the Accessibility Coordinator at 905-623-3379 ext. 2131.
Appeal Requirements
If you do not speak at the public meeting or send your comments or concerns to the Municipality of Clarington before the by-law is passed: a) you will not be entitled to appeal the decision to the Local Planning Appeal Tribunal; and b) you will not be able to participate at a hearing of an appeal before the Local Planning Appeal Tribunal, in the opinion of the Tribunal, there are reasonable grounds to do so.