Municipal Budgets
2021 Draft Budget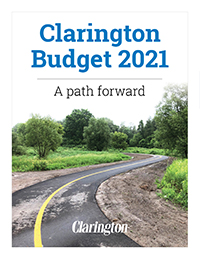 The Municipality of Clarington is pleased to provide its 2021 Draft Budget to Council and taxpayers. This document is the Municipality's financial plan for 2021 and serves as a document that guides policy, strategic decision-making and service levels. It includes a broad overview of the operations, current financial position and capital and operating budgets of the Municipality.
Operating budget
An operating budget is an annual estimate of revenues and expenditures. It aligns Municipal priorities with the services Clarington delivers to its residents.
Capital budget
The Capital budget is a five-year forecast that focuses on infrastructure needs, timing and financing of future projects.
Municipal Financial Statements
The following documents are formal audited reports of the Municipality's financial activities for a one-year period.
2019
Consolidated Financial Statements (December 31, 2019)

Financial Statements - Trust Funds (December 31, 2019)
2018
Consolidated Financial Statements (December 31, 2018)

Financial Statements - Trust Funds (December 31, 2018)
Asset Management
Asset Management Policy
2017 Asset Management Plan
2013 Asset Management Plan - Roads and Bridges
Clarington's Asset Management Plan for Roads and Bridges Report complies with the requirements of the Small Rural and Northern Municipal Infrastructure Fund - Capital Program
Other Reporting
Cash in Lieu of Parkland Reserve Fund
Development Charges Reserve Fund
Building Permit Fees Annual Report
An annual report that records the amount of Municipal building permit fees collected and the costs of delivering this service.
Federal Gas Tax Funding
Gas Tax Outcomes Funding is provided annually to municipalities as part of a Municipal Funding Agreement with the Association of Municipalities of Ontario.