2020 Draft Budget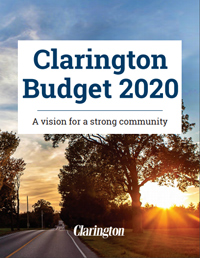 The Municipality of Clarington is pleased to provide its 2020 Draft Budget to Council and taxpayers. This document is the Municipality's financial plan for 2020 and serves as a document that guides policy, strategic decision-making and service levels. It includes a broad overview of the operations, current financial position and capital and operating budgets of the Municipality.
Key dates
Budget public meetings
October 2019
Budget Coffee Houses. View Display Panels
Friday, December 6, 2019
Half-day budget workshop for Council. View Budget Education Session presentation.
Friday, January 10, 2020
External agency budget presentations to Council
Monday, February 24, 2020
Special budget General Government Committee meeting
Monday, March 2, 2020
Budget deliberations and ratification Council Meeting
Understanding the municipal budget
Understanding municipal budgets can be daunting. What is operating versus capital? What do I need to know? And how does all of this impact my taxes and my family?
You've come to the right place. We have drawn up a quick guide to the Municipal budget process. Everything you need to know is now at your fingertips.
Here are some of the things you need to review: