Understanding municipal budgets can be daunting. What is operating versus capital? What do I need to know? And how does all of this impact my property taxes and my family?
You've come to the right place. We've created this quick guide to the Municipal budget process. Everything you need to know is now at your fingertips.
2021 Budget Target
Clarington Council has set budget parameters for Municipal staff as they work on preparing the 2021 budget. The approved target for the municipal portion of the levy is 3.55 per cent. This target is just a guideline as the Municipality sets priorities for capital projects and its operating costs. The budget will contain a list of items that Council will weigh out and prioritize. Council will look at setting priorities for various essential services, including road maintenance, road improvements, fire services, as well as a new recreation complex in South Bowmanville, new playgrounds and trails. The budget target is based on economic forecasts which expect to see a rebounding Canadian economy in 2021.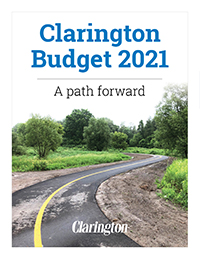 2021 Draft Budget
The Municipality of Clarington is pleased to provide its 2021 Draft Budget to Council and taxpayers. This document is the Municipality's financial plan for 2021 and serves as a document that guides policy, strategic decision-making and service levels. It includes a broad overview of the operations, current financial position and capital and operating budgets of the Municipality.
Key dates
January 29, 2021
Budget Workshop/Presentation
January 29, 2021
Special General Government Committee Meeting - External Agencies
February 1, 2021
Special General Government Committee Meeting - Budget Deliberations
February 8, 2021
Council Meeting - Budget Ratification
Budget Timeline
Compiling the annual budget involves staff at various levels from across the organization. Finance begins the process by issuing budget guidelines and base budgets to departments. The budgets are reviewed and amended as necessary by the respective managers and department heads. Once Finance has consolidated all the information from the various sources, the CAO and Director of Financial Services/Treasurer meet with each Department Head individually to review the operating and capital budgets.
While compiling their budgets, staff consider Council guidelines, strategic priorities and other factors in the municipal sector that may impact the Municipality over the next several years. Once this review is complete, a draft budget is presented to Council and the public for discussion and consideration.
Clarington's budget process focuses on containing costs and implementing best practices, with the goal of demonstrating leadership in financial management and providing residents with value for their property tax dollar.