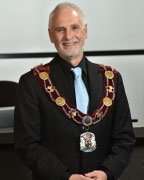 Adrian Foster is serving his third term as Mayor of Clarington. Adrian and his wife Deborah live in Courtice. Deborah is an ordained Minister with The United Church of Canada.
After graduating from the University of Toronto, Adrian worked as a counsellor helping developmentally disabled children and their families in a behaviour management setting. Later he started a career as an investment advisor, working in that field for over 26 years.
Since making their home in Clarington, the Fosters have been active in the community supporting numerous groups and causes. Adrian has volunteered with numerous organizations. He is a past President of the Clarington Board of Trade, a former charter member of the Rotary Club of Courtice and is involved with the Lion's Club of Courtice.
Adrian has been formally recognized twice for his service to the community. He was awarded the Queen's Golden Jubilee medal in 2002, the Queen's Diamond Jubilee medal in 2012 and was presented with a Paul Harris Fellowship by the Rotary Club of Courtice in 2008. Adrian has represented the Municipality on a wide variety of boards and committees. Amongst other commitments, he sits as Chair of Durham Region Finance, sits as Chair of the Canadian Association of Nuclear Host Communities, and is a Board Member of Elexicon Corp.