Posted on July 26, 2021 12:43 PM
The Newcastle Leash-Free Dog Park will remain closed until the earliest the week of August 2, 2021 to allow for construction in the area. Inclement weather has delayed this work. We apologize for the inconvenience and thank you for your patience.
Alternate locations
Posted on July 23, 2021 02:11 PM
The Municipality of Clarington is reviewing its customer service approach to make improvements. We need your help. Join our public focus group on Monday, August 9, from 5 to 6:30 p.m. and share your input and experiences regarding our customer service. Your opinion matters and will help shape future changes.
To join the focus group, please use the link below to open Zoom in your browser. From there, you can continue to download the Zoom app or launch the meeting in your browser.
Posted on June 29, 2021 12:52 PM
Nash Road will close between Solina Road and Hancock Road from June 28 to October 29, 2021, for road reconstruction.
Detours will be available via alternate local roads.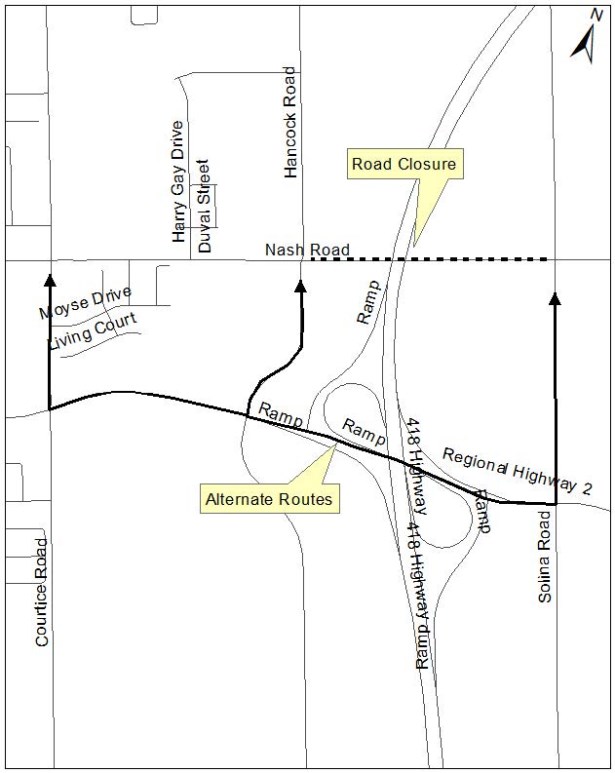 Posted on June 22, 2021 11:09 AM
The Region of Durham will not be collecting water samples from the Garnet B. Rickard Recreation Complex drop-off location from Tuesday, June 29, 2021, at 10 a.m. until Friday, July 2, 2021, at 8 a.m.
The regular water sample bottle drop-off and pick-up schedule will resume on Friday, July 2, 2021, at 8 a.m.
For more information, please contact 905-668-2020 or 1-800-841-2729 and select the option to speak to a Public Health Inspector.
Posted on June 16, 2021 04:17 PM
Residents must keep out of the construction area marked by fencing on Farewell Creek Trail. For your safety and the safety of the workers, trail users must respect the fenced limits of the construction area. We have noticed an increase in the number of people removing the barriers and accessing the area. This is very dangerous. Construction machinery, open excavations, material stockpiles, and rough terrain are all safety hazards to trail users and may cause injury or harm.
We ask everyone to please...