Posted on June 10, 2021 10:14 AM
Courtice Shores Drive will close from Darlington Park Road to the south end of the road from June 14 to 25, 2021, for road and parking infrastructure construction that will improve access to the Courtice Waterfront.
The construction includes widening the southern section of the roadway to allow for some on-street parking spaces and also constructing an off-street gravel parking lot north of the waterfront to accommodate approximately 26 cars. The map below shows the future for the area.
During the...
Posted on June 09, 2021 12:36 PM
Prestonvale Road will close between Bloor Street and Southfield Avenue from June 21 to 25, 2021, for work on underground services.
Detours will be available via alternate local roads.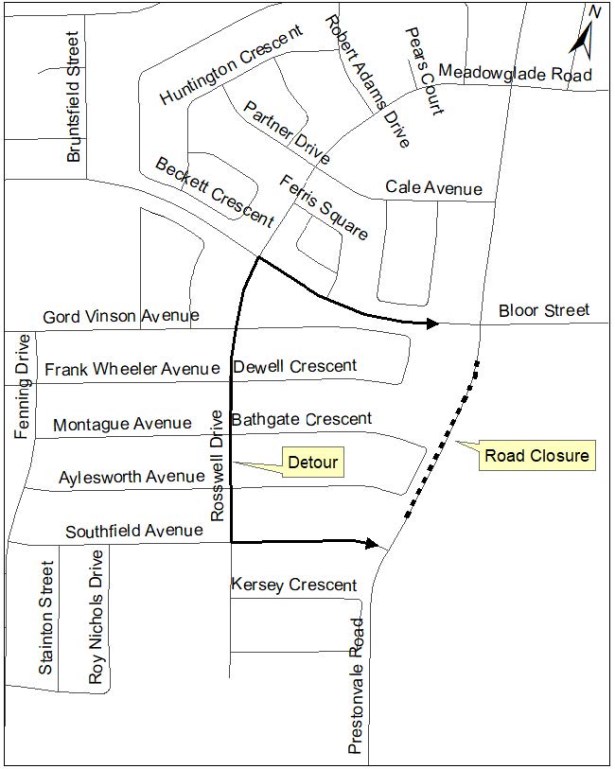 Posted on June 09, 2021 12:13 PM
Nash Road will close intermittently from Hancock Road to Solina Road from approximately June 28 to October 2021 for rehabilitation and widening of the road. During the construction, traffic may be reduced to one lane, and there may be times when the road is fully closed for short durations.
The work includes the rehabilitation and widening of Nash road to allow for dedicated cycling lanes and improved roadway drainage.
We apologize for any inconvenience during construction and thank you for your...
Posted on June 01, 2021 02:12 PM
Whitby, Ontario – The Regional Municipality of Durham is advising residents of lane restrictions on Regional Road 17, in Newcastle, in the Municipality of Clarington.
When: June 14 to November 26. Unfavourable weather conditions may influence the work schedule.
Where: Regional Road 17 from 50 metres north of the railway tracks to Monroe Street West, in Newcastle, in the Municipality of Clarington.
Why: To safely install a sewer and watermain to support...
Posted on May 26, 2021 11:33 AM
Water and wastewater works and road reconstruction will affect traffic on North Street, Grady Drive and Regional Road 17 from June 1 to December 30, 2021.
During the ongoing construction, the following roads will close from June 14 to approximately November 26, 2021:
North Street, between Wilmot Street and Grady Drive
Grady Drive, between North Street and Manvers Road