Posted on June 30, 2015 12:30 PM
Clarington June 30, 2015/- Council has voted to change the way older adult recreational programming is offered in Clarington. To plan for increased demand, both the Municipality and the Clarington Older Adult Centre Board (COACB) will provide recreational programming. The COACB will continue to operate the Clarington Older Adult Association and provide programming at the Beech Centre in Bowmanville. The Municipality will provide programming with a wider scope, focusing on all older adults across...
Posted on June 29, 2015 11:45 AM
Clarington June 29, 2015/- As we approach Canada Day, Clarington Emergency and Fire Services would like to remind all residents about firework safety. Please ensure that the discharge of fireworks is done by responsible adults. The fire department would like to advise all residents to have an extinguisher, or a method of extinguishing any potential flames, on hand. Fireworks in Clarington are allowed between dusk and 11 p.m. on Canada Day. Sky lanterns, also known as Chinese lanterns, have been banned...
Posted on June 23, 2015 11:30 AM
Clarington June 23, 2015/- Council is looking at four options for the provision of older adult recreational programming and services across the Municipality of Clarington. The proposals stem out of the Clarington Older Adult Strategy, a report commissioned by the Municipality to determine the current and future needs of older adults as the population continues to grow. The report was first presented to Council on March 30, 2015. It was compiled by a consultant who worked closely with representatives...
Posted on June 17, 2015 09:15 AM
Clarington June 17, 2015/- Clarington Council voted to delay the demolition of the former Newcastle Village fire hall and allow GO Transit to continue using the existing property as a temporary turnaround for its bus service. Council also directed Municipal staff to explore various options for GO Transit rerouting in Newcastle Village. Staff will work closely with GO Transit and Durham Region Transit on ways to enhance transportation options for Newcastle residents.
In January, Council decided...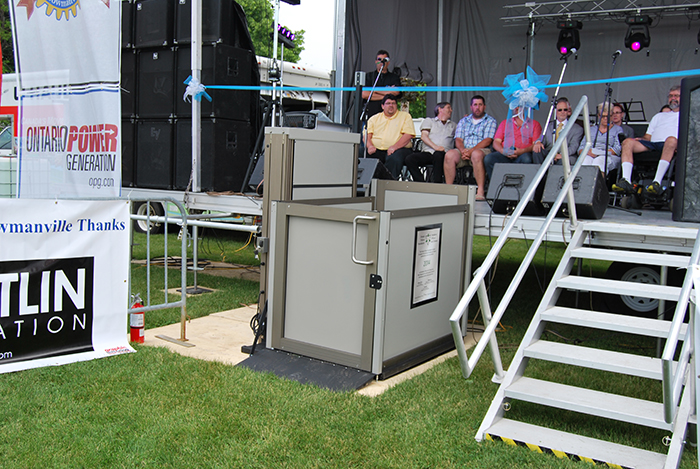 Posted on June 08, 2015 09:15 AM
Clarington June 8, 2015/- Clarington unveiled its new accessible mobile stage at Bowmanville Rotary Rockin' Ribs and Brews on Friday, June 5. The stage was used for the first time during the festival.
The stage has many features including a lift that provides access from the ground to stage level for people with disabilities. It was purchased with grant money from the Ontario Trillium Foundation as part of a community collaborative project with the Visual Arts Centre, the Rotary Club of Bowmanville,...