Posted on April 01, 2015 02:45 AM
Clarington April 1, 2015/- The Municipality of Clarington is looking to build a sustainable all-inclusive recreational environment for older adults in the community. The aim is to create an environment where older adults across the Municipality of Clarington can enjoy a variety of recreational and leisure activities suited to their needs.
To that end, the Community Services Department has worked in conjunction with representatives from the Clarington Older Adult Centre Board, members of the public,...
Posted on March 18, 2015 02:45 AM
Clarington March 18, 2015/- The weather has finally warmed up and it is time to think about tree planting. Trees for Rural Roads applications are due by March 31, 2015.
The Trees for Rural Roads Program offers trees free of charge to Clarington rural residents to be planted along municipal roadways that border private land. Participants have their choice of a number of native tree species.
The program, established in 2012, is delivered in partnership with Central Lake Ontario Region Conservation Authority...
Posted on March 10, 2015 02:45 AM
WHITBY, ON March 10, 2015 – The Regional Municipality of Durham, Planning and Economic Development Department, Tourism Division, is thrilled to announce that they will be partnering with all eight local area municipalities this summer, to bring residents and visitors the first-ever Durham Festival—a celebration of culture and creativity in Durham Region. This region-wide legacy event will take place from Aug. 13 to 16.
Read the full Press Release from the Region of Durham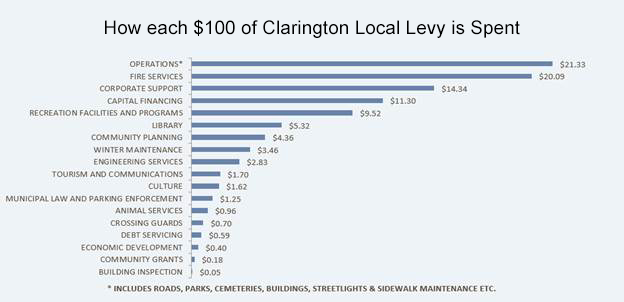 Posted on March 05, 2015 02:45 AM
Clarington March 5, 2015/- The Municipality of Clarington has adopted its 2015 operating and capital budget; it was ratified by Council Thursday during an extended meeting.
Residents will see a 3.65 per cent increase in taxes, that's an additional $43.25 on the Clarington portion of the tax bill for an average household worth $285,800. Residents in Clarington also pay taxes to cover the cost of services provided by the Region of Durham, the School Boards as well as the Municipality of Clarington....
Posted on February 25, 2015 02:45 AM
Clarington February 25, 2015/- Recreational programming is growing across Clarington, as we promote a healthy, active lifestyle. The Municipality offers numerous programs for all ages, from swimming, skating, personal training, camps, facility rental, to programs for older adults. Clarington strives to help residents enjoy fitness and recreation.
Our Community services department oversees recreation and provides an annual report for Council. 2014 was another successful year across Clarington in terms...