Posted on September 16, 2015 11:00 AM
Clarington September 16, 2015/- The Municipality of Clarington's Community Services Department is creating a facilities development strategy. The strategy will serve as a framework for the future of indoor recreation facilities in Clarington until 2031.
To meet the needs of an ever-growing and diverse population, Clarington is looking to create a plan that includes the expansion of our existing facilities and development of new recreation facilities. "We want to provide the best indoor recreation...
Posted on September 16, 2015 08:45 AM
WHO: The Municipality of Clarington is rededicating the Clarington Fitness Centre as the newly named Alan Strike Aquatic and Squash Centre.
WHAT: The rededication ceremony will officially change the name of the Clarington Fitness Centre. The facility was recently reopened after extensive renovations.
WHEN: Saturday, September 19, 2015 official ceremony to begin at 1:30 p.m.
WHERE: Clarington Fitness Centre, 49 Liberty Street North Bowmanville
-30-
Media Contact:
Basia Radomski
Communications Manager
905-623-3379...
Posted on September 15, 2015 10:30 AM
Clarington September 15, 2015/- Construction is thriving in Clarington. A building permit report for April, May and June presented before the General Government Committee shows that construction is up by 103.6 per cent, compared to the same period in 2014.
The report highlights all building permits granted from April until the end of June this year. During that time period, the Municipality issued 440 new residential housing unit permits as compared to 170 at the same time in 2014. More than half...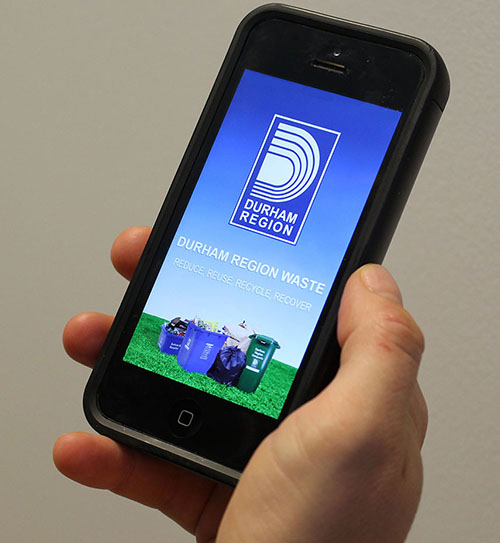 Posted on September 04, 2015 09:15 AM
The Regional Municipality of Durham, Works Department officially announced the new Durham Region Waste App, a tool to give residents instant, mobile, customized access to information about waste collection.
Read the full News Release from the Region of Durham
Posted on August 14, 2015 02:00 AM
Clarington August 14, 2015/- Clarington Mayor Adrian Foster is leading a delegation of Council Members and Municipal Staff to the annual Association of Municipalities of Ontario (AMO) Conference this weekend. Mayor Foster has some high-level meetings planned with provincial decision-makers. High on the agenda are priorities that Clarington Council identified in its 2015-2018 Strategic Plan including: the GO Train expansion, improvements to Highway 401 interchanges, Darlington Refurbishment, and Clarington's...