Posted on September 28, 2016 04:00 AM
Clarington September 28, 2016/- The Municipality of Clarington has partnered with the Clarington Board of Trade to form a joint economic development team known as JET. JET will focus on facilitating economic development.
The team is made up of senior staff from the Municipality of Clarington, the Region of Durham as well as the Clarington Board of Trade. The purpose of JET is to facilitate major economic development projects in the site selection process, to bring big business to Clarington and to...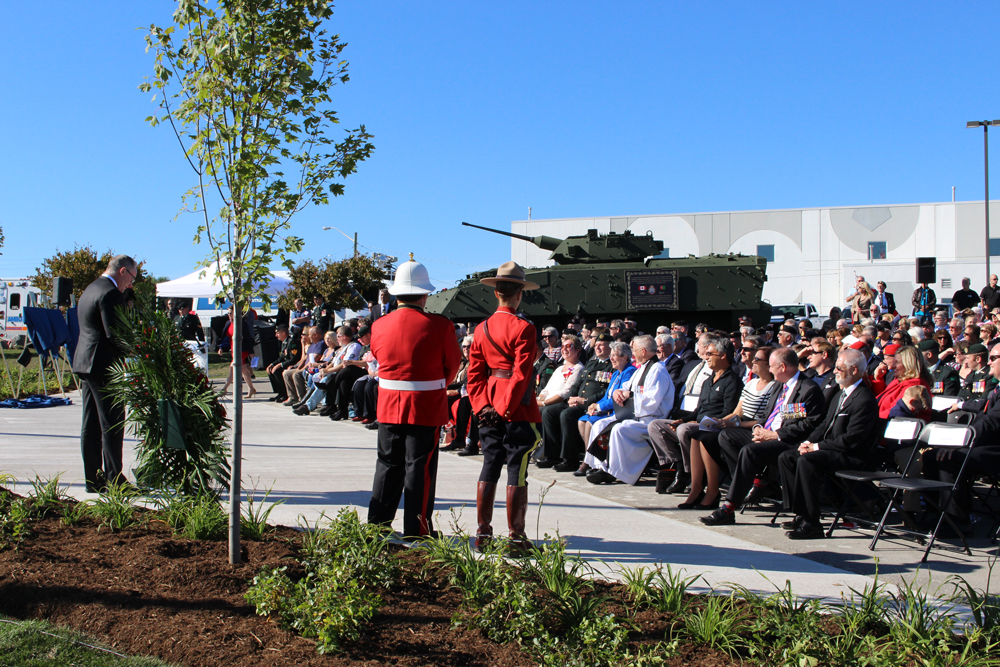 Posted on September 27, 2016 10:00 AM
Clarington September 24, 2016/- The Highway of Heroes Durham LAV Monument, honouring the sacrifices of Canadian soldiers in Afghanistan, was unveiled today during an official community celebration in the Municipality of Clarington. The ceremony was attended by several dignitaries, including Major General David Fraser, BA, MA, CD, MSM, MSC, CMM; Parliamentary Secretary to the Minister of National Defence, John McKay; Hon. Erin O'Toole, Member of Parliament for Durham; Roger Anderson, Regional Chair...
Posted on September 16, 2016 02:45 AM
On behalf of the Newcastles of the World Committee:
Clarington September 16, 2016-/ The Village of Newcastle in Clarington is making last minute preparations to open its doors, Monday, to delegates from around the world for the ninth 'Newcastles of the World Conference.' Delegates from 13 countries will participate in this year's conference; that's the best turnout to date. The conference will run from September 19, 2016, until September 23, 2016. This year, the focus is 'An ageing population...
Posted on September 09, 2016 03:15 AM
CLARINGTON, September 9, 2016 – Today, Enbridge Gas Distribution, the Fire Marshal's Public Fire Safety Council and Clarington Emergency and Fire Services (CEFS) announced they are partnering to improve home safety and bring fire and carbon monoxide-related deaths down to zero.
CEFS received 174 combination smoke and carbon monoxide alarms through Project Zero; a public education campaign that is providing a total of 3,330 alarms to residents in 15 Ontario municipalities. This year, Enbridge invested...
Posted on September 08, 2016 04:15 AM
Clarington September 8, 2016/- Clarington's Older Adult Activity Centre is introducing new and exciting programs for its fall session including scrapbooking, watercolour painting, bridge lessons, ukulele, and ballroom dancing. Clarington is also offering, for the first time, 11 computer courses to help older adults use technology effectively.
"We find that a lot of our participants are interested in keeping up with their children and grandchildren online," said Kersti Pascoe, Older Adult Coordinator....