Posted on December 11, 2016 04:30 AM
Whitby, Ont. – Clarington Fire Officials were called to respond to a fire today at the Durham York Energy Centre (DYEC). The facility has been shut down as per the standard operating procedures. At this time waste deliveries have been put on hold until a damage assessment is complete.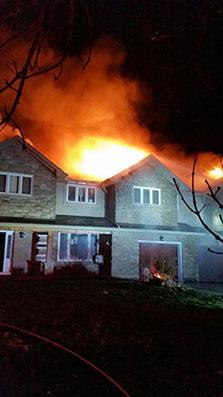 Posted on December 10, 2016 01:00 AM
Clarington December 10, 2016/- Clarington Emergency and Fire Services battled an overnight fire on Holt Road between Highway 2 and Nash Road. The call came in at 3:53 a.m. Crews responded quickly and arrived on scene to find a large fire that had already spread to the roof of the home.
Two adults and four children were able to make it out safely. They are staying with family. No one was injured.
"This family is living proof that smoke alarms save lives," said Clarington Fire Chief Gord Weir. "The smoke...
Posted on December 08, 2016 04:15 AM
Clarington December 8, 2016/- The Municipality of Clarington remains on budget for 2016 as shown in a third quarter financial report presented to Council. As of September 30, 2016 Municipal expenses totalled $57,221,413. The Municipal expenses pay for the cost of services Clarington provides such as winter maintenance, road maintenance, park clearing and facility operations to name a few. The Municipal budget tends to fluctuate throughout the year. This is because many of the services provided are...
Posted on November 29, 2016 09:30 AM
The Regional Municipalities of Durham and York have issued the Acceptance Certificate for the Durham York Energy Centre (DYEC).
Posted on November 25, 2016 02:45 AM
WHITBY, ON November 25, 2016 – As part of the Ministry of the Environment and Climate Change (MOECC) approved Abatement Plan and the Environmental Compliance Approval (ECA), the Regional Municipalities of Durham and York, have received the Source Test results for the Durham York Energy Centre (DYEC). The Source Test includes two categories of testing—diagnostic and compliance.
Read the full press release on the Region of Durham website.