Posted on September 27, 2019 09:00 AM
Durham Region's Works Department advises residents that the Waste Management Call Centre has a new phone number: 905-697-5300. For more details, visit the Region of Durham website.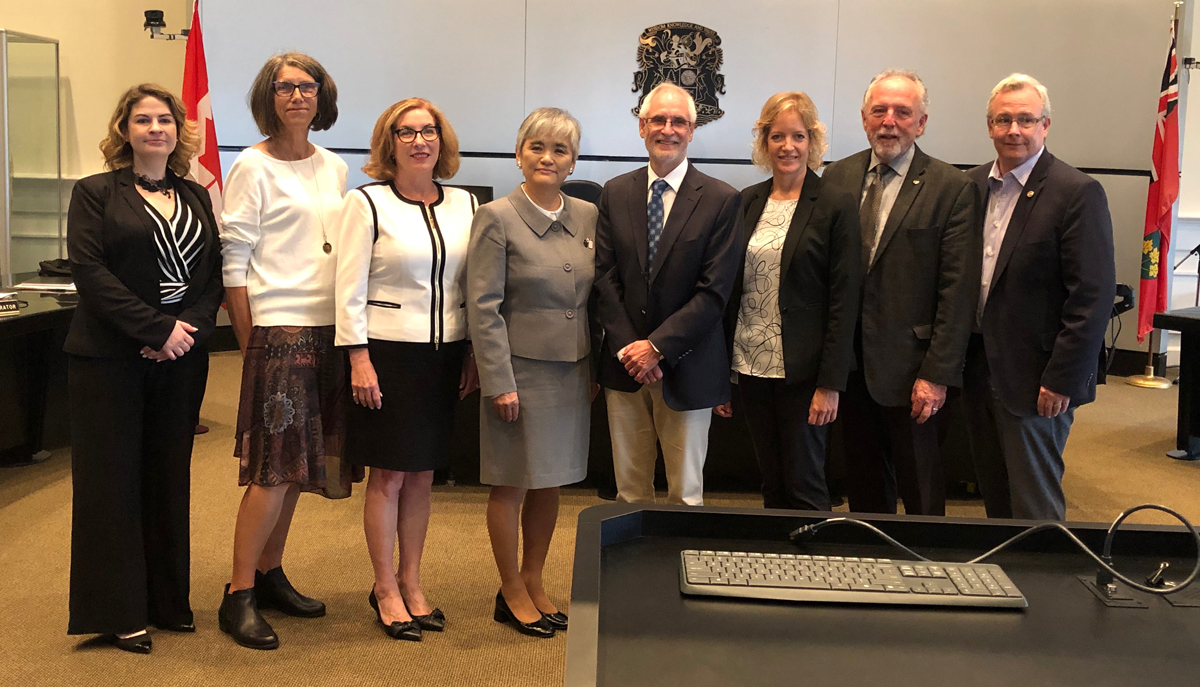 Posted on September 23, 2019 11:00 AM
Clarington September 23, 2019/- The Consul General of Japan in Toronto Ms. Takako Ito addressed Clarington's Mayor and Council today during a committee meeting. During her presentation, Consul General Ito talked about the potential opportunities for economic and educational partnership between Clarington and various similar-sized Japanese cities.
"Japan and Canada are ideal partners. We share the same values such as democracy, human rights, free and open economy and more. I hope we will be able to...
Posted on September 23, 2019 02:00 AM
Whitby, September 23, 2019 – The Region of Durham and area municipalities are proud to announce they have collectively raised food and funds equivalent to approximately 81,669 pounds of food for Feed the Need and local food banks – the result of a two-week inter-municipal food donation challenge.
Throughout the challenge, donations were made by residents, community organizations, businesses and municipal staff who showed an outpouring of generosity to fight local hunger. The donations will help provide...
Posted on September 16, 2019 11:45 AM
Whitby, Ontario, Sept. 16, 2019 – A new regional Smoking and Vaping By-law, regulating smoking and vaping of tobacco, vapour products and cannabis in public places and the workplace, has been approved and is now in effect. The previous Smoke-Free By-Law, which regulated smoking in public places and the workplace, has now been revoked.
The new regional Smoking and Vaping By-law addresses smoking and vaping of any substance intended to be inhaled including nicotine, cannabis and medical cannabis, as...
Posted on September 04, 2019 12:30 PM
Clarington September 4, 2019/- Clarington's Great Apple Adventure is back, officially launching the fall harvest season. This self-guided driving tour includes stops at 11 locations and four fall festivals highlighting one of Clarington's greatest assets—apples.
The Great Apple Adventure is a self-guided tour created by Clarington Tourism last year to showcase agri-tourism and lasts until the end of October. This year, the tour includes stops at the 167th Orono Fair, Allin's Orchards,...