Photo Gallery: Emergency and Fire Services will appear here on the public site.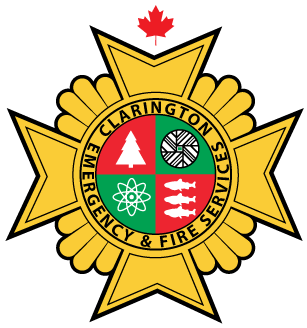 Clarington Emergency and Fire Services are an integral part of the community. Our first responders provide an essential service protecting and helping residents. Our fire crews are also out in the community helping to educate residents about safety and fire prevention.
Preparing for an emergency is something all residents should do. By taking a few simple steps today, you can become better prepared to face a range of emergencies and look after your family anytime and anywhere.
Clarington's Emergency and Fire Services, along with our partners, come together annually for our Family Safety Day to share safety tips with you. We also run a popular Junior Firefighter Program for children aged 10 and 11.
New laws are introduced to improve public safety and the safety of emergency responders.
Remember: Fire safety begins with you.
Fire stations and trucks
Clarington has five accredited fire stations that are located in specific areas within the Municipality to provide the best emergency response and cover of a large geographic area. Every fire station has at least a pumper and a tanker truck. Additional pumper trucks, aerial trucks, rescue trucks and specialized equipment are located throughout the Municipality to assist in operations.
Station 1 (Headquarters)
Located at 2430 Highway 2 in Bowmanville, Station 1 is a composite fire station with full-time and volunteer firefighters. Station 1 is also home to our administration, fire prevention, mechanical and training staff.
Station 2
Located at 3333 Highway 2 in Newcastle, Station 2 is a composite fire station with full-time and volunteer firefighters.
Station 3
Station 3 is located at 5708 Main Street in Orono and is manned by volunteer firefighters.
Station 4
Located at 2611 Trulls Road Courtice, Station 4 is a composite fire station with full-time and volunteer firefighters.
Station 5
Station 5 is located at 2354 Concession Road 8 in Enniskillen and is manned by volunteer firefighters.
Fire station tours
Fire Station tours are available upon request. To arrange a tour, contact a member of our Fire Prevention team at 905-623-5126.
Fire Master Plan
The Fire Master Plan is a document that provides the groundwork and vision for the operations of the fire department. It guides Council as it make decisions regarding the delivery of fire protection services based on the Municipality's local needs and circumstances.
Vision, mission and values
Our vision
We are dedicated to a fire safe community.
Our mission
To ensure we deliver service excellence through public education, prevention, training and emergency response.
Our values
Every member of Clarington Emergency and Fire Services upholds the tradition of a composite department and uses their skills and knowledge to serve the community at a moment's notice.
History
In 1974, Clarke and Darlington Townships merged as a result of regional amalgamation. They formed the Town of Newcastle. The three local fire departments also joined and formed the Town of Newcastle Fire Department. Since that time, the department has evolved and grown into a composite fire service, made up of both full-time and volunteer or part-time firefighters.
Today, Clarington Emergency and Fire Services operate from five fire stations. Two additional stations were built as the community expanded, one in Courtice in 1979 and the other in Enniskillen in 1989.